Online Tickets
Save time and skip the admission line. Tickets are good any time during business hours for the date purchased.
9 a.m. – 4 p.m
Tuesday – Saturday
and
12 p.m. – 4 p.m.
Sunday
What to Expect
We offer art and hands-on activities that support early learning, nurture creative thinking and engage families in quality time.
Enhanced cleaning protocols are in place. Families are encouraged to read our guidelines for a fun visit.
Health & Wellness
If you are feeling ill, we respectfully ask you to reschedule your visit.
To help mitigate the spread of germs, the museum added hand sanitizer stations and installed Plasma Air ionization systems. Learn more in our FAQs.
Welcome to the i.d.e.a. Museum.
The i.d.e.a. Museum – which is owned by the City of Mesa and supported by the i.d.e.a. Museum Foundation – offers hands-on activities and art exhibitions for kids of all ages. Programs are developed not only for children but also – most importantly – for the whole family.
The museum inspires our visitors to experience their world differently. Therefore – in addition to art, creativity and imagination – we focus on supporting early learning, nurturing creative thinking and engaging families in quality experiences.
We also offer virtual school tours, and Girl Scout workshops. Please visit our Classes page to learn more.
NOTE: We are open Tuesday through Sunday.
Please note: Our website is best viewed on Chrome or Safari.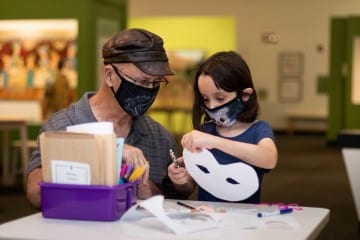 Membership
Entertain your family with creative experiences; a great value that pays for itself in as little as two regular-price visits.
Members receive early access to timed ticket registration.
Take your class or group on an artful journey that nourishes young minds and sparks creativity.
Your donation funds educational programs that support early learning, nurture creative thinking and engage families. Change lives!
Thank you for your support!