The i.d.e.a. Museum is for everyone! Our motto is "for your child and the child within you."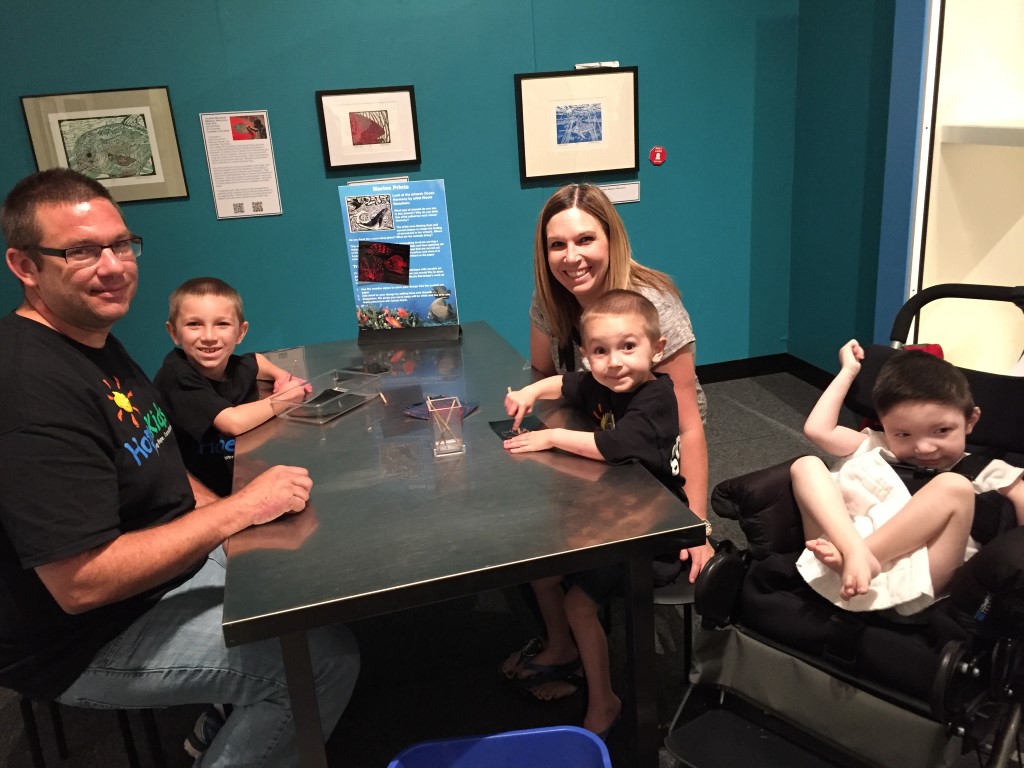 The i.d.e.a. Museum offers art and hands-on activities that support early learning, nurture creative thinking and engage families with quality experiences. Children and adults are encouraged to participate in hands-on activities together.
When you arrive…
All visitors enter the museum through the front doors located on Pepper Place – we are wheelchair accessible. You may occasionally encounter a line to check in. Online reservations are strongly encouraged, as it speeds up check-in. Admission tickets may also be purchased at the door.
Learn more about timed tickets.
We are open 9 a.m. – 4 p.m. Tuesday through Saturday and noon to 4 p.m. on Sunday. Afternoons tend to be quieter times to visit. Masks are optional at City of Mesa facilities. 
The museum has gone through the rigorous process of autism certification training by the International Board of Credentialing and Continuing Education Standards (IBCCES).
We also proudly participate in the Hidden Disabilities Sunflower Program, since not all disabilities are obvious. Museum guests and members may ask for lanyard or bracelet to let staff know they may need some extra help or time during their visit.
Sensory tips: You may bring your own fidget spinners, noise-canceling headphones or other items to help you have a more pleasant experience. A few sensory backpacks are available for check out at our Visitor Services desk. Additionally, accommodations are available upon request, and guests may request lap desks to checkout.
Items not allowed in the museum
Weapons are not allowed in the museum. Additionally, food and beverages are not allowed in the museum galleries.
ArtVille FYIs
ArtVille is an engaging environment designed with the unique requirements of children birth to age 4. Young crawlers to curious toddlers will interact in a town built to cultivate exploration, imagination and creative expression. Imaginative play in the town encourages social-emotional and language development.  ALL visitors (adults and children) are required to wear socks while present to help maintain the cleanliness of the space. Exceptions are made for visitors wearing medical devices on their feet.
Sensory Guide – coming soon!
Museum noise
The museum can be loud during busy times and in some exhibition spaces, as the space is filled with children's enthusiastic voices. We are busiest when we have school groups in the building (typically mornings) and during free Museum Discovery Days (none are scheduled for 2021 at this time), which attract crowds. If your child is sensitive to sound, consider bringing noise-cancelling headphones or earplugs. You may also visit our front desk to check out one of a limited number of sensory backpacks on hand. Currently, the museum tends to be quieter in the afternoons.
Quiet spaces
The museum offer three designated "quiet spaces" where visitors can sit and relax away from the bright lights and sounds of other visitors. In ArtVille, the Infant Care Room is a private space where families can sit away from other visitors, feed infants, or change diapers.  Visitors may also opt to escape to Art's Library in ArtVille to comfortably sit and read. In the HUB, you can sit quietly in the Zen Den.
Please note: All of these areas are located within the museum, which is a public space. The noise level could increase in these areas when the museum is busy. For your convenience, sensory backpacks can be checked out at the Visitors Services Desk.
Interactive computer areas
There are computer interactives in many of the exhibition areas. If these activities distract your child, please ask for one of our sensory guides (coming soon!) or talk with a Gallery Educator to make a note of where these interactives are located so that you may avoid them.
Museum alarms
Museum alarms rarely go off. But when they do, they can be loud. Should someone trigger an alarm, museum staff quickly investigates and turns the siren off if all is clear. Signs are placed on doors when access is not available and an alarm is set to warn visitors that access is restricted.
What can I touch?
Much of the museum is set up for touching and exploration. But a few items that are not meant for touching will have barriers and signage. If you see signs or fencing placed in front of artwork, that means it is fragile and should not be touched. We want your child to be able to roam freely through the museum, but please do not cross barriers protecting objects.
Bathrooms
Bathrooms are located on both ends of the museum. Additionally, a Family/Companion Care restroom is located in ArtVille. Museum bathrooms have manual flush toilets, on/off sinks, and electric towel dispensers.
Wheelchairs
The museum's front entry has automated doors activated by a button. The inside is wheelchair accessible.