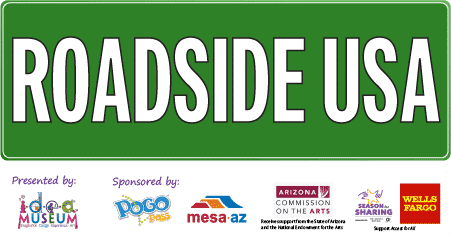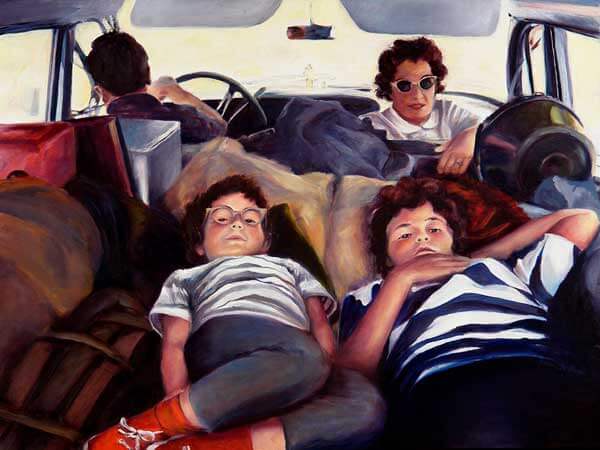 Road Trip 1963 – Francene Christianson
Exhibition Overview
Experience our country's unique destinations and culture this summer at the i.d.e.a. Museum's Roadside USA exhibition.  Enjoy games, trivia and interactives that whisk you and your family into the heart of an American tradition – the summer road trip.
Through art and hands-on activities, Roadside USA offers a journey through offbeat and popular family vacation destinations and roadside attractions where you will learn about people and places from coast to coast.
Planned activities for children of all ages include:
Weaving via loom activity
Driving a motor home
Crafting a travel journal and making maps
Changing a tire
Creating magnetic license plates and vacation postcards
Placing yourself in a surfboard/vacation scene via green screen
Please note: During exhibition opening weekends, the museum has restrictions on admission passes. Please be sure to refer to your pass for the fine print.
Educational & Arts Programs
Hands-on activities in the exhibition are created with science, technology, engineering, art and math (STEAM) concepts in mind. Also, several classes, workshops and "Meet the Artist/Expert" events will be offered.
Curriculum currently in development tentatively will cover topics including the history, culture and natural landscape of our country. These topics will integrate social studies, English language arts, math, engineering, technology and the arts.
Artworks featured will include: wall hangings, standing sculptures and collages focused on the five regions of the United States.
Exhibition activities are aligned with Arizona K-12 Academic Standards for education.
Exhibition Artists
 The exhibition features 71 artworks from 24 artists from around the United States, including Arizona, and internationally. Works include paintings, digital art, ceramics, quilts, photographs, video and a mixed-media collage.
Arizona artists: Denise A. Currier, Jake Early, Roberta Hancock, Deborah McMillion-Nering, Edward A. O'Rork Jr., Farraday Newsome, Robert Schultz, Linda J. Shearer-Whiting, Rex Witte and Judy Wood.
National artists: Valerie Goodwin, Florida; Robert Tolchin, Illinois; Andrew Hubbert and Chris Lutton, Massachusetts; James Gurney, New York;  Marguerite Chadwick-Juner, Dean Jeffery and Catherine Twomey, North Carolina; Francene Christianson, Texas; and Oakie and Bruce Warrington, Washington.
International artists: Pablo Garcia Saldaña, Mexico; John-Mark Smith, Lviv, Ukraine; and Zbysiu Rodak, United Kingdom.