The i.d.e.a. Museum is partnering once again with 4th Trimester Arizona to present a special one-day event aimed at helping new and expecting parents navigate the challenges of a family. This year, the 4th Trimester Arizona Conference returns virtually on Saturday, April 24.
In its fourth year, the live online conference features 15+ workshops that tackle postpartum, intimacy, family support, communication, education and self-care. The museum will be open to the public during the virtual event.
"When we take care of ourselves, we can be better caregivers for our children. That's why we've been a supporter of this conference from 4th Trimester Arizona Community since its inception," said Dena Milliron, curator of education for the i.d.e.a. Museum. "And when we are at our best, then we can better prepare our children for their future by supporting early learning, nurturing creative thinking and engaging in quality time."
Conference topics
4th Trimester Arizona connects a village of new families by providing resources, support and nurturing through regular community events. The fourth annual conference addresses:
Postpartum Intimacy
Family Support
Body Changes
Communications
Self-care
Holistic Healing
"Now, more than ever, families need a safe place to talk about the mental, physical and emotional changes that come with having a new baby," said Jennie Bever, executive director of 4th Trimester Arizona.  "Our annual conference brings families together to talk about the parts of new parenthood that don't always get talked about, and know they are not alone."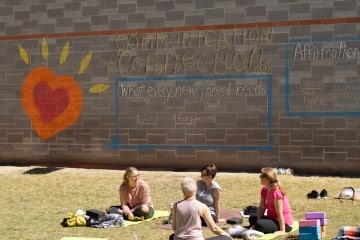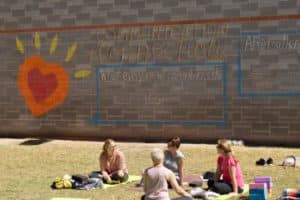 A scene from the 4th Trimester Arizona Conference at the i.d.e.a. Museum in 2020. The event will be online this year.
What to expect
The conference – which runs from 9 a.m. to 5 p.m. Saturday, April 24 – features several expert speakers. The event will be accessible via Whova, a virtual conference app.
Sponsors include the i.d.e.a. Museum, First Things First, Southwest Human Development, Image Legends, Social Connections, Fit4Mom and Arizona Breastfeeding Center. 
Register
Regular registration is $25. Members of the i.d.e.a. Museum will receive a discount code for $10 off registration in their member email.
Additionally, the conference is free to WIC and AHCCCS participants with registration.
Tickets: www.4thtrimesteraz.org. Museum programs and exhibitions: www.ideaMuseum.org.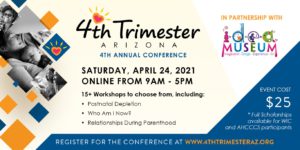 About us
The i.d.e.a. Museum is a part of the City of Mesa and is supported by the i.d.e.a. Museum Foundation. The foundation is a nonprofit 501(c)3 organization with a mission to provide sustainable resources to fulfill i.d.e.a. Museum's mission through fundraising, advocacy, and partnerships. Its vision is to create infinite possibilities for i.d.e.a. Museum. 
4th Trimester Arizona is a nonprofit organization that provides community support for Arizona parents both during pregnancy and through the first months and years of the 4th Trimester. The organization is comprised of health professionals, educators, local business people and ordinary families providing support for vulnerable women and families during the first months and years after a baby is born.  
-30-