FOR IMMEDIATE RELEASE
Contact: Hannah Hockersmith                                                                                                                                                      C 480-313-2995
LUMINOUS: THE ART OF LIGHT
OPENING FRIDAY, SEPT. 29, 2023
i.d.e.a. Museum's Newest Exhibition Presented by Google Fiber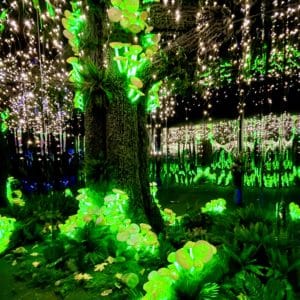 ***Photos are available to download at this link.***
Mesa, AZ – Experience the magic of prisms and the glow of neon lights in the enchanting world of "Luminous: The Art of Light." Designed for visitors of all ages, "Luminous" invites families and guests to play, learn and unleash their creativity in a captivating and enchanting world of light. Whether you're a seasoned art enthusiast or a curious explorer, this extraordinary exhibition promises wonder, discovery and the sheer joy of artistic illumination.
Interactive artmaking and art-viewing experiences will allow guests and families to deepen their understanding of how light plays a role in art and shapes the world around us.
Hands-on experiences include:
Shadow Dancing: Colorful shadows are cast on the wall while playful and artistic movement is encouraged.
Shadow Sketching: Arrange various magnetic blocks on the wall to cast a shadow. Trace the shadow onto a piece of paper and decorate it.
Pixel Play: Create a masterpiece using the larger than life light bright.
Interactive Blacklight Chalkboard: Utilize neon chalk under a blacklight to add color to Kyllan Maney's chalkboard mural.
Glow and Show Jellyfish: Create a bioluminescent jellyfish using blacklight reactive art supplies. Bring your jellyfish into the blacklight room to bring it to life.
"Light has been an important part of artistic creations for centuries. Seen in the rich color glowing from sunlight passing through the stained glass of Sainte Chapelle Chapel in Paris, to the stark contrast of light and dark in Caravaggio's Chiaroscuro paintings; light (or lack of) can provide drama, focus, reverence and wonder, among other effects and emotions," explains i.d.e.a. Museum Curator, Mike Goodwin. "'Luminous: The Art of Light' features more than 30 diverse artists with varying art mediums from Casey Olson's photography and Snood City's neon to Kristin Wesley's black light and Colleen Quigley's interactive art. The diversity of people, styles and media seen in 'Luminous' only reflect a small portion of the incredible talent that is available locally. Curating an exhibit needs to not only celebrate the iconic artists that have thrived but shine a light on new emerging artists that are only just beginning to share their work. Join us to experience the magic of prisms and the glow of UV light!"
"Luminous: The Art of Light" is included with regular museum admission and i.d.e.a. Museum memberships. Google Fiber is the proud presenting sponsor. Additional support is provided by the Arizona Commission on the Arts, which receives support from the State of Arizona and the National Endowment for the Arts, as well as the i.d.e.a. Museum Foundation. Book your visit to the i.d.e.a. Museum now by visiting ideamusem.org. The i.d.e.a. Museum is located at 150 W. Pepper Place in Downtown Mesa.
ABOUT i.d.e.a. MUSEUM 
i.d.e.a. Museum is owned and operated by the City of Mesa with support from the i.d.e.a. Museum Foundation, a nonprofit 501(c)3 organization. The Museum is centrally located in Downtown Mesa with interactive art exhibitions and STEAM activities aimed to inspire families of all ages and backgrounds to experience their world differently through art, creativity and imagination. For more information, visit ideamuseum.org.
####