Let's play with blocks! This activity is not only fun, but it helps your toddlers and preschoolers build skills needed for school. Among the things they learn: 
Spatial reasoning
Creativity
Building 3-D structures
To get started, all you need are some blocks – they can be any type that you have at home.
Nurture your child
Some tips for making the most of your structured play:
Look at all 6 sides of the blocks & talk about what you see.
Challenge your child to build various structures.
Ask your child to talk about what they are creating. Is there a story they would like to share?
Create some challenges, such as: Can you use the blocks to make patterns? The tallest tower? The strongest? A fort for their favorite toys?
Reminisce with your child about what you enjoyed building as a child.
Build outside with large boxes or inside with books.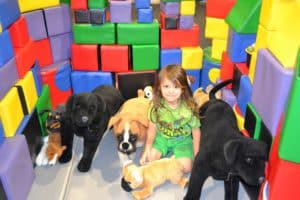 Note: Block play is on a pause in ArtVille at this time due to pandemic protocols. Image is for illustration only.