Did you know both viewing art and playing with puppets are great ways to encourage your child to tell a story?
The puppet theater – recently added to our HUB Gallery – provides a great space for kids of all ages to tap into their imaginations take them to new places. Start by picking a puppet and asking your child to have them tell you a story about the puppet they chose.
When going through the museum, you'll also notice several interesting artworks. Currently, we're featuring Robo Art in the Whiteman Family Exhibition Gallery.
When viewing these artworks, you can ask your child to tell a story about what they see.
By doing these activities, you help your child build vocabulary and set a foundation for learning at school.
Storytelling activity
Encourage your child to tell a story with this activity from our archive. It comes from our Art of the Story exhibition, and it provides some info about the 5 elements of a story.
Video:
Getting started
First, gather your materials:
Activity PDF or plain paper
Pencil
Bag of assorted props (toys, household items, instruments)
Artwork to view (at home or online)
Next, read through the PDF to read through the 5 elements – settings, characters, plot/action, conflict/problem and resolution – to help you shape your story. Also, pick a prop you'd like for your story.
Then, look at the art you picked for inspiration and to think about your story. We used an illustration – Cat Island(featured above) by Esme Shapiro, who was featured in a past exhibition, Art of the Story – to shape our story.
Finally, start writing your story. Let your imagination (and your props) lead the way – keeping the 5 elements in mind.
Story time at the museum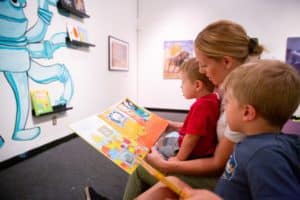 At the i.d.e.a. Museum, story time and storytelling is integral to our programming. Every exhibition includes a reading nook, too..
Dena Milliron, the museum's curator of education, says: "No matter what the content, books and stories provide families with a time to slow down, talk, share and potentially learn something new!"
Currently, the museum offers Saturday story times at 11:15 a.m. in our Robo Art Reading Room, inside the Whiteman Family Exhibition Gallery. And these are great for helping develop listening skills and comprehension.
Milliron adds: "In addition, there are situations that are portrayed in children's literature that provide opportunities for children and caregivers to discuss their feelings and thoughts and promote the development of empathy as children identify and experience the story of the characters."
If you can't make one of our story times, find time to read together at home. Milliron says reading together helps build vocabulary and phonemic awareness, as well as exercise expressive language.