Homemade gift can be wonderful treasures! With Mother's Day just around the corner, we're sharing an activity from our popular Mother's Day Tea Party, which typically takes place the Saturday prior to mom's special day.
WATCH VIDEO here:
You can choose to do this together on Mother's Day. Or, maybe this can be an activity for a caregiver (a relative, partner or friend, for example) and child to make in advance as a gift for a special mom!
This activity is done during our Tea Party using mugs, but it can be done with a pot for a plant, a jewelry bowl or any ceramic you'd like to gift.
Getting colorful…
First, gather your supplies for making you mug or other colorful ceramic. Our sample features a mug.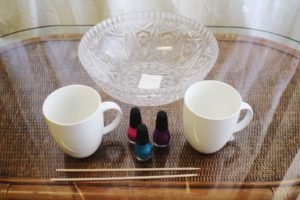 Materials:
Glazed white ceramics (this can be a mug, vase or whatever you may like to decorate)
A large bowl (it's best to use one you don't mind discarding afterwards)
Toothpicks or wooden skewers
 Nail polish (avoid quick drying polish)
 Water
NOTE: Once your ceramic is dipped in polish, it is no longer dishwasher safe.
Getting Started:
1. Fill your large bowl with water. The fuller the bowl is, the more surface area you can cover on your mug with paint.
2. Choose your nail polish colors and drizzle them onto the surface of the water.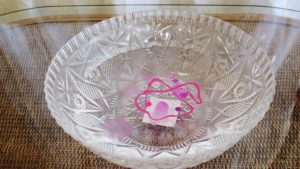 3. Use a toothpick or wood skewer to mix the colors for a watercolor effect. It's important to work quickly before the nail polish dries.
4. Carefully and slowly dip your mug or ceramic into the water and watch the nail polish stick to the ceramic. Pull the ceramic out and set upside down to dry.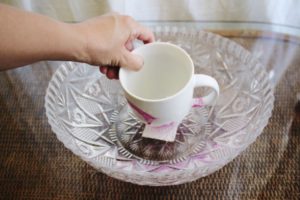 Image: Dipping mug into floating nail polish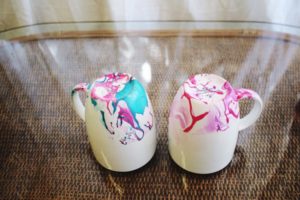 Image: Drying mugs
5. Repeat, if you want to create another!
Now you have a one-of-a-kind gift for someone special that you can fill with tea bags and wrap in a decorated gift bag with a personalized card.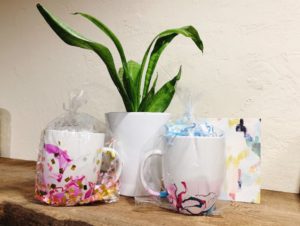 About this activity
We hope you enjoy doing this activity! We look forward to eventaully seeing you in the museum again at one of our mulit-generational workshops for more activities created by Museum Education Assistant, Chelsea Ziegenhein.
Chelsea has been at the i.d.e.a. Museum for 9 years. She coordinates the musuem's educational programs, including camps, workshops, Girl Scouts and birthday parties. She also works on the Exhibition Design Team to develop educational activities for the rotating exhibitions, such as Art of the Story.
Says Chelsea: "I love creating opportunities that nurture the bonding between adult and child through artful and playful experiences."