Earth Day 2021 is almost here!  At the museum, we'll have a special upcycle challenge for our visitors – while supplies last – on Thursday, April 22. It will be a seed starter! Buy your timed admission tickets here.
How will you celebrate on April 22?
At the i.d.e.a. Museum, we love Earth Day because teaching about sustainability is part of our mission. Our staff works on a variety of activities that utilize recycled materials, and we have a dedicated space – Junkyard Jungle (formerly our Recyclery) – supported by our friends at Mesa Recycles to teach families about reducing waste, reusing materials and recycling.
Check out some fun and creative ideas from our staff and Mesa's Living Green Team for making an impact and learning more. We hope you will share the ways your family will celebrate Earth Day on our social media channels (we posted links below).
First, be sure to watch this video for tips:
From the museum archives:
Try these resourceful activities at home to learn more about our sustainability and have a little creative fun.
1. Embark on a colorful plant scavenger hunt. Find an entire spectrum of colors in the blooming spring desert. Then take a moment to learn more about plants and how they support our ecosystem. Get started here.
2. Write a story. Our planet is amazing, and our desert inspires paintings, photographs, documentaries and books. So why not tap into your imagination, do a little research or both to come up with your own Earth Day-themed story. Find inspiration from this Sonoran Safari writing activity.
3. Make a wildflower wall. This beautiful activity – also featured in our Sonoran Safari exhibition – is a great way to talk about how beautiful nature is and learn a little about wildflowers. Best of all, you can do this craft with recycled materials, such as tissue paper used in gift bags and twist ties in food packaging. Learn how to create your colorful blooms!
4. Create nature prints. Try this painting activity to create an excuse to get a little yard work done (you'll need to collect some leaves and weeds) and then inspire a discussion about recycling. Find your inspiration here.
5. Design a flower collage. Gather some colorful clippings to make a lovely flower artwork without having to create waste. You'll reuse items you may already have around your home for this project, which also opens the door for a lesson in environmental resourcefulness. Begin by gathering some flowers.
More at-home activities:
1. Find 50 fun ways to make a difference for both kids and adults from Mesa's Green Living Team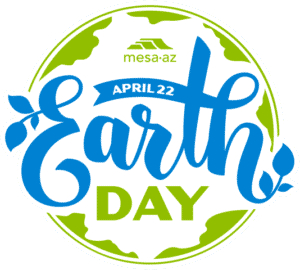 2. Research ways to reduce waste, water and energy, and then make a plan at home. Check out tips from Mesa's Earth Day page.
3. Create some recycled art with materials at home. Some options include:
4. Take action. Some options for kids:
5. Watch an age-appropriate documentary about the planet together and then talk about what you learned and how the information made you feel.
6. Read some kid-friendly books (suggested by We Are Teachers) for inspiration to write your own Earth Day story or poem.
On social media
We'll be sharing a variety of activities in celebration of Earth Day this month. Find us on social media:
And don't forget to let us know if you:
Made something special (a recycled art project or story)
Did something special outside in your yard
Supported a cause or nonprofit that helps plants, animals or the earth
Did something else creative to celebrate Earth Day
Be sure to share a pic or short video and tag the museum and City of Mesa on social media. Please use @cityofmesa on Facebook, Twitter and Instagram and @ideaMuseum on Facebook and @ideaMuseumMesa on Twitter and Instagram. We're looking to share your ideas in the days ahead.
Happy learning and creating!