Amber, one of our gallery educators at the I.d.e.a. Museum, has another fun desert-themed project for you.
These easy art projects for your family are part of a special Wednesday initiative: Downtown Mesa's Family Takeout Night.
Our project today is a desert sky silhouette – inspired by our beautiful desert. You might recall this activity from a previous museum exhibition, Sonoran Safari.
Getting started
Materials:
Black and white paper
Scissors
Glue
Any colorful art medium to draw with, such as colored pencils, crayons, markers, paint, chalk or pastels
Optional: A picture for inspiration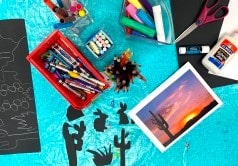 Create!
Step 1: Once you have all your materials gathered, begin coloring your background on the white paper. Some things to consider:
What colors do you enjoy seeing the most in the desert sky?
Do you want to do your favorite color?
This project is fun because even though we are all doing a desert, the end result will be a variety of different, colorful desert scenes!
Step 2: After you finish coloring on the white sheet, outline some items on your black paper.
On this sheet of paper you can sketch out the variety of desert items – such as foliage, animals and mountains – that you want in your scene. You can also experiment with organic shapes and see what happens!
Step 3: Cut out your shapes.
Step 4: Now it is time to glue the shapes on the colorful sky background.
Great job, your artwork is complete! How did it turn out?

About this project
Thanks for joining us to create a beautiful desert scene. Please stay tuned for more of our museum videos this July during Mesa Family Take Out Night. We will be doing a few more creative projects inspired by our amazing desert.
Note: As part of Mesa's Family Takeout Night initiative, we invite you to do this creative activity at home, snap a photo and send us your art image to engagement@mesaartscenter.com.
Or post your pictures on social media with the hashtags #mesatakeout #togetherinthedesert. Tag us at @ideaMuseum on Facebook and @ideaMuseumMesa on Twitter and Instagram.