Noelle, a gallery educator at the i.d.e.a. Museum, shares a few ways you can create your own unique art gallery at home. This can also turn into its own fun family project.
The activity is part of the Mesa Family Take Out Night, supporting our downtown Mesa restaurants. Check out our video!
Getting Started
Materials
We're showing you some art display options using the following materials:
Poster board
Thick construction paper
Neutral colored twine
Clothes pins
Clipboard
Repurposed frames
Cardstock
Acrylic paint
Thumbtacks
Tape
Let's create!
With the materials you have, let's get started. In the video, you'll see several examples for displaying your child's artwork for inspiration. See video here.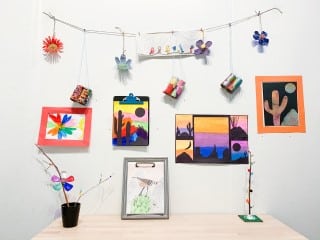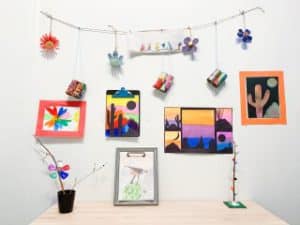 We suggest these simple, yet creative options:
Use a clipboard – You can hang art on clipboards as is (making it easy to sub out your child's art). Or, as a fun option, paint the clipboards to add some color and creativity! Then hang one or several of them on the wall.
Try a repurposed frame – Attach clips to empty frames and hang on the wall to display artwork.
Hang with twine and clothespins – Attach a long piece of twine vertically or horizontally and use clothespins to hang artwork on the twine.
Make DIY poster board frames – Create frames of any size out of poster board to attach to the wall, attach art to frames.
Use thick construction paper/card stock – Attach construction paper or card stock to the back of your artwork to create an easy frame. Trim as needed to fit.
For your own art gallery, you can choose one of these methods or a combination of any of these. Use what you have handy at home.
The goal of this art gallery is to create a way to display your child's art that you can easily change out. Plus, it's a fun way to look at art without leaving home. Some more samples: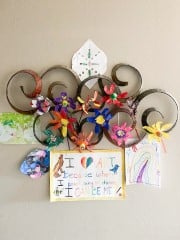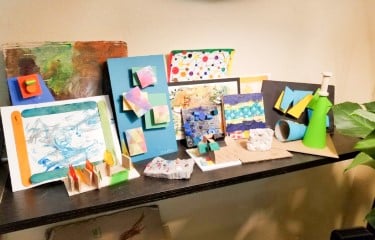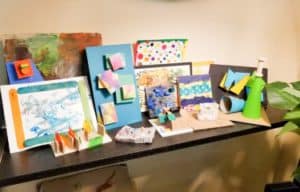 About this project
Thanks for joining us to create a beautiful art gallery with your desert artworks. We have one more video – showcasing a fun community art project – for you to try out during Mesa Family Take Out Night next Wednesday.
Note: As part of Mesa's Family Takeout Night initiative, we invite you to do this creative activity at home, snap a photo and send us your art image to engagement@mesaartscenter.com.
Or post your pictures on social media with the hashtags #mesatakeout #togetherinthedesert. Tag us at @ideaMuseum on Facebook and @ideaMuseumMesa on Twitter and Instagram.