Portraits are awesome. Let's try drawing one today!
It can be based on a real person or magical creature. You decide!
Julia – one of our museum volunteers – shares a drawing of a girl who loves autumn, since we're now in that season.
We hope it inspires some creativity as you draw from your imagination at home.
Watch the video:
Gather your tools!
You'll need:
Sketchbook or some paper
Colorful drawing instruments, such as marker or colored pencils
Imagination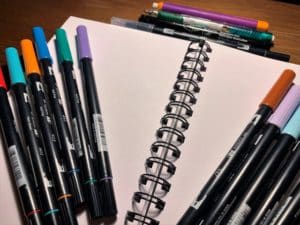 Note: Julia often first sketches her subject with a pencil, then outlines with an illustrator pen (both 0.1 and 0.5 point). She colors in her drawings with Tombow acidfree water-based markers.
Draw!
First, find a comfy space and gather your materials. For a portrait, you might want to look at a picture of someone you know. If you want to draw a portrait of a magical creature, just tap into your imagination.
Finally, begin!
If you are having difficulty getting started, you might look at some magazines or websites for portrait illustrations. You might also ask yourself:
Will my portrait be based on reality or a caricature (exaggerated drawing of some features)?
Will I include a background highlighting the type of person or magical creature I'm drawing?
Is there a story to my drawing? What is it? The drawing below is a mermaid portrait.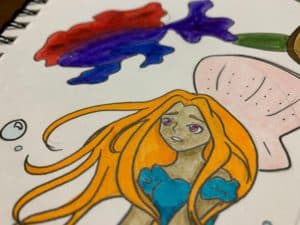 Remember, just try and have fun! Portraits aren't easy. But you don't need to make it perfect. Just trying is wonderful.
Once you're done, try it again!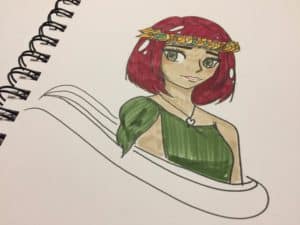 Tip: If your child gets frustrated because his/her drawing doesn't look a certain way, have them read the book Ish by Peter H. Reynolds. What we like about this story is the main character discovers the fun in creating once he realizes his art doesn't need to look exactly like the thing he was trying to draw. Ish is awesome!
About our volunteer
Julia is a student at Arizona State University studying biology. She draws to relax and think. You might find her at the museum helping at an event, but she's often behind the scenes helping input data and prepping sample artworks for marketing events.