Save your eggshells for an egg-citing spring process-art activity the entire family can enjoy!
You'll fill shells with paint and toss them at a large piece of paper for some color splats that are just as fun to make as they are to admire. It's messy outdoor fun for all ages!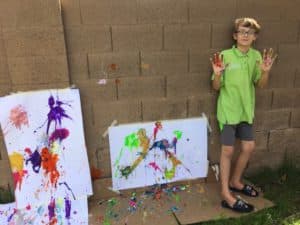 Materials
You will need:
Large paper (such as extra packing material) or large piece of cardboard (such as a flattened delivery box)
Paper, cardboard, or drop clothes to protect wall and ground
Masking (or stronger) tape
Washable paint

 

Eggshells (collected over time and rinsed)
Play clothes that can get messy
Before you begin…
The museum developed this fun family activity that all ages can participate in with process art in mind. What is that? It's art that is child directed and celebrates the process rather than the end result. You celebrate their choices and nurture creativity and imagination.
Also, discuss how the paintings can be "ish". What do we mean? We had been sharing a wonderful story called ish by Peter H. Reynolds in our most recent Artful Tales Experience programs. It's about a boy who loves to create but an unkind comment about his art takes away his joy. His vase doesn't look like a vase, but his sister loves it and shows him the beauty in his "vase-ish" creation. He learns that "ish" is better that getting it perfect, giving him the confidence to create more "ish" art.
The lesson: Create what makes you happy! It doesn't have to be anything else.
We also love that this activity engages across generations. Throwing the eggs was fun and the splats were epic, but it does get messy and you need to prepare them for that.
Alternates: We also did this same process with large pieces of sponges and wads of paper towels. It was super fun too, but messier because the kids kept reusing the same sponges. This, of course led to painting with their entire hands, which they loved. But, we had to wash off with the hose before going back inside.
Project prep
As you use eggs, try to crack them so that only the top 1/3 or so comes off, rather than in half. Rise and set aside until you've collected enough for your splat art.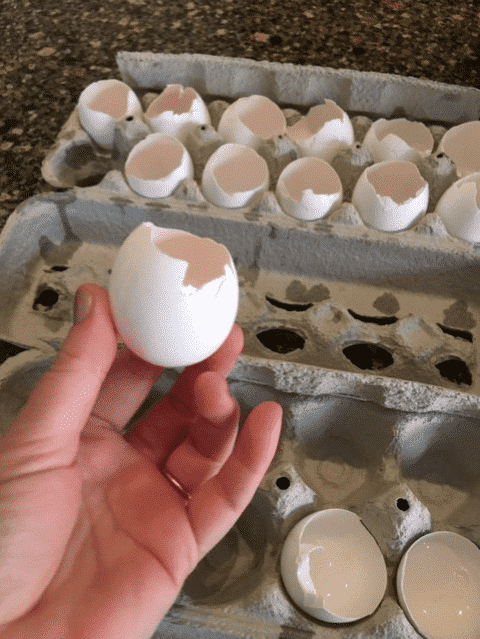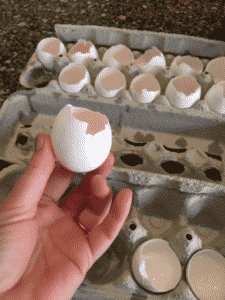 When you are ready to do the process, fill the eggs with washable paint.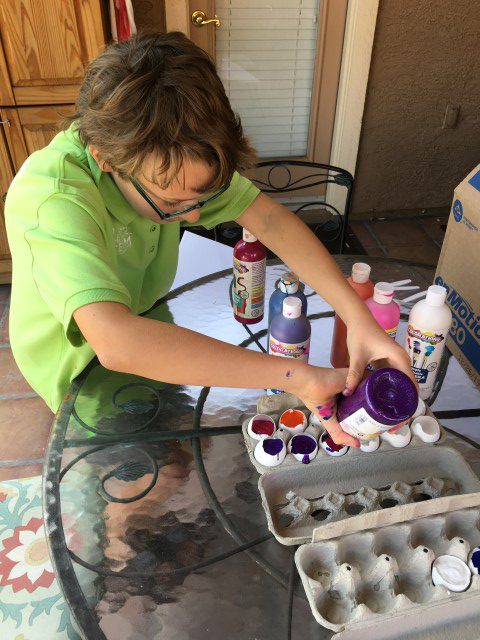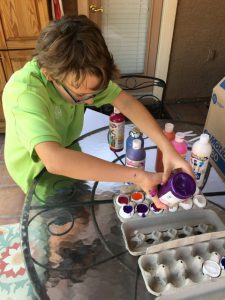 Set up your space to try to contain the mess. Tape your paper(s) to an outside wall. You could also just lay the paper out on the ground. Use extra paper, cardboard, or drop cloths to protect your work area from the stray splatters.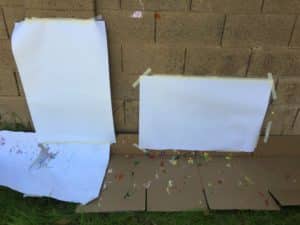 Now for some egg-cellent fun! Keeping the eggs as upright as possible let your kids throw them at the paper and watch the paint fly. Splatters and giggles will ensue! We stood about 3 feet from the paper, but you may need to adjust accordingly.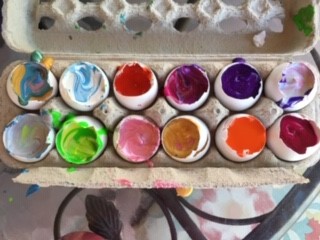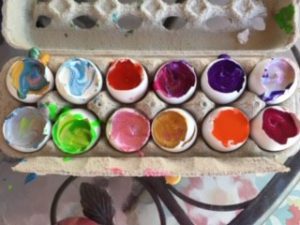 Finally, enjoy your Egg-ceptional mural! I'd wait for it to dry before trying to clean up the shells. Looking closely reveals some great shapes and mixed and swirled colors. Enjoy!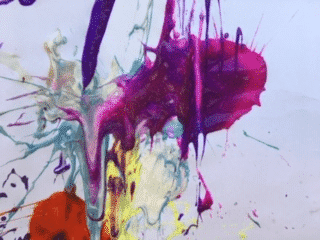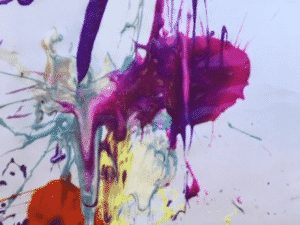 This creative activity was developed by Monica B, one of the museum's Gallery Educators and our Artful Tales Experience Coordinator. This type of painting activity is sometimes part of the i.d.e.a. Musuem's Messy Creations or Artful Tales Experience programs.