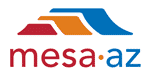 The City of Mesa wishes to foster a climate of respect, comfort and welcome within museum facilities for all visitors and staff.  The i.d.e.a. Museum is dedicated to supporting early learning, nurturing creative thinking, and promoting family engagement.  Our visitors are an invaluable part of the community and should be able to enjoy their museum experience free from disruptive behavior, harassment, intimidation, and threats to health, safety and well-being; as such, all visitors are required to behave in a manner consistent with this Code of Conduct.
All children under the age of 12 must be accompanied by an individual 16 years of age or older.
Visitors are required to wear proper attire while on Museum property. Shirts and shoes must be worn at all times.
Strollers are permitted in all galleries, with the exception of ArtVille. Stroller parking is available immediately adjacent to ArtVille.
Eating and drinking are not permitted in any of the Museum galleries. Eating is allowed in designated areas only. All beverages must be in a container with a lid.
Visitors are to refrain from shouting, running, using materials or supplies in a way in which they are not intended, and other disruptive behavior. Individuals exhibiting any offensive, abusive or threatening language or behavior, and individuals suspected of being intoxicated or under the influence of drugs, will be asked to leave the Museum.
Visitors are prohibited from throwing or tossing museum toys, props or other large objects in a manner that poses a safety hazard to other visitors.
Visitors are not permitted to engage in the following activities: leafleting, protests, rallies, third-party sales, or any activity that has the effect, intent, or propensity to draw attention.
Pets are not permitted in the Museum, with the exception of service animals.
Smoking, vaping and the use of cannabis are not permitted on Museum grounds, inside the building and in all parking lots. The use of all smoke-related products including e-cigarettes, cigars, vaporizers, tobacco and its derivatives and cannabis and its derivatives are prohibited.
The following items are not permitted in the Museum at any time:

Bicycles, scooters, tricycles, skateboards, roller/in-line skates;
Drugs or alcohol;
Weapons of any kind, and any other item deemed dangerous by the Museum; and
Any other item prohibited by law.

To preserve the artwork on display, visitors are not to touch or lean on any of the exhibits or displays with the exception of those which are intended to be interactive.
Trespassing, entering, or remaining in or upon Museum premises when the Museum is not open to the public, except with the express consent of Museum staff, is strictly prohibited.
Obstructing the use of public areas such as entrances, foyers, lobbies, corridors, concourses, offices, elevators, escalators, stairways, roadways, driveways, or walkways is not permitted.
Tampering with fire- and life-safety devices, such as fire extinguishers or alarm pull stations, is not permitted.
Violating the order of or preventing the execution of duties by Museum staff to maintain order and control public access and movement is prohibited. Threatening, resisting, intimidating, or intentionally interfering with Museum staff engaged in their official duties is prohibited.