This fall, the i.d.e.a. Museum is introducing a six-week series of workshops for preschoolers to prepare for school. The program – i.d.e.a. for Early Learners (formerly ArtVille Academy) – offers an engaging curriculum that combines literacy, art, science and math for chilldren ages 3-5. An open house to help parents learn more is planned on Sept. 23.
Classes will take place from 9 a.m. to noon Thursdays Sept. 30 – Nov. 4. Each week children will be introduced to different themes and activities to inspire a curiosity for learning and develop skills needed for school.
"School is such a big step for young children," said Dena Milliron, curator of education for the museum. "We designed this new program – filled with fun skill-building activities – to help early learners prepare for that transition from home to the classroom."
REGISTRATION HAS BEEN EXTENDED – CLOSES SEPT. 28
Program mission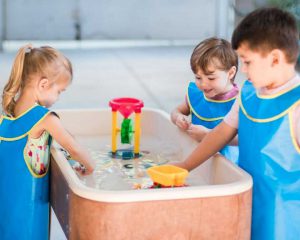 A key priority for the i.d.e.a. Museum is supporting early childhood learning opportunities. i.d.e.a. for Early Learners developed from the museum's Skill Builders drop-in activities, which included lacing, counting and color sorting. Feedback from participants and educators help shape the first version of the school skill-building program.
i.d.e.a. for Early Learners incorporates fun with school skill builders. An experienced Gallery Educator will lead lessons that give students the opportunity to interact socially, build language and communication skills, engage in outdoor and imaginative play, and become familiar with school structure and routines. The program is supported in part by a grant from the Giles W. and Elise G. Mead Foundation.
The school-readiness series is another effort by the museum to support early childhood development and learning. The museum also offers a number of art and STEAM-based workshops to nurture creative thinking in little ones, as well as features unstructured imaginative play within ArtVille, a socks-only space aimed at ages 4 and younger.
Learn more about ArtVille, the museum's socks-only space for children ages 0-4: www.ideamuseum.org/artville.html
Open house
Join us from 10 a.m. to noon on Thursday, Sept. 23, to learn more about i.d.e.a. for Early Learners. Educators will be on hand to answer parent questions about the school-readiness program, while children explore the classroom and enjoy an art activity.
The program capacity is set to 15 participants, with a minimum of 8. Please note: Children who are enrolled must be toilet trained.
Protocols will include frequent hand washing and hand sanitizer available in the classroom, as well as daily cleaning of program activity materials.
Registration for the museum's Fall 2021 session is expected to begin Monday, Aug. 16. Cost is $75 per child for members; $90 for nonmembers.
Next sessions
We are currently working on program themes and developing plans for future sessions in the spring and summer. Each series introduces a new curriculum for returning participants. Stay tuned for registration dates.