Scrunch Foil Heart Painting is a process-art activity from one of the i.d.e.a. Museum's Messy Creations classes. Our packaged Messy Creations kits will be available soon for you to experience messy art making from home!
You'll need a few things to get started: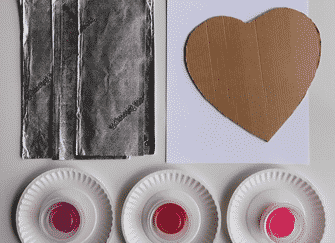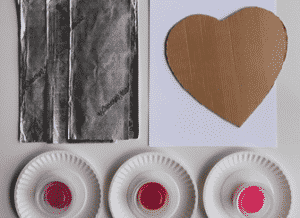 Materials
3 aluminum foil sheets
3 tablespoons each of pink, purple and red paint
2 sheets of cardstock
1 heart-shaped piece of cardboard
Note: You may want to cover your table to avoid messes, and consider having your child wear a smock or old clothes you don't mind getting paint splatter. 
Watch how to do this activity with your little ones:
Imagine & Create!
First, gather and prepare your materials.
Next, scrunch some foil for use with your paints.
Then, dip foil into paint.
Begin stamping paint onto cardstock to practice.
Finally, start stamping paint onto cardboard heart.
Remember to follow your heart and paint what brings you joy!
About our Gallery Educator
Emily Coley is an i.d.e.a. Museum Gallery Educator whose career started as an ASU intern in 2016. After earning her Bachelor's degree in education, she joined the museum's staff.
For the past five years, she has enjoyed specializing in early childhood programming, especially Messy Creations, which is a program that is offered for infants and toddlers. Having a 3-year-old son has definitely been a huge inspiration in all aspects of her program development.
She says: "Early childhood, open-ended, process art-making experiences can provide so many developmental benefits. Process art contributes to a child's language, literacy, physical, social and emotional development, just to name a few. Planning the activities, then watching the children explore and create with art-making materials, sometimes for the very first time, brings me so much joy."