Here's a fun craft you can try with your child(ren). Just gather a few items you likely have at home to create some "far out" planet suncatchers.
Getting started
Materials:
Wax paper
Paper plate or cup (something to catch the crayon shavings)
Crayons (broken ones are perfect)
Yarn
Scissors
Hole puncher
Cheese grater
Blow dryer, heat gun or iron to melt crayon shavings
(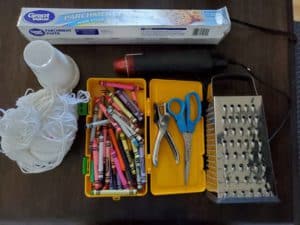 Imagine & create!
Directions for making your suncatcher:
1. Pick colors you would like for your planet. Then, place a paper plate under cheese grater and begin making crayon shavings with the crayon you selected. You may also scoop shavings into a cup.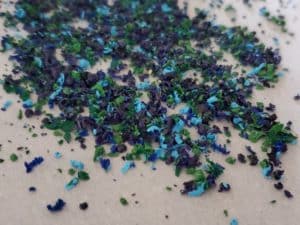 2. Tear off a piece of wax paper that is at least 18 inches for your suncatcher. You'll fold this in half later.
3. Transfer crayon shavings onto wax paper. Make sure the shavings cover several inches of the paper – you'll be cutting a circle from melted shavings a little later.
4. Fold the wax paper in half, so the shavings are sandwiched inside. The shavings should be spread out enough to cut a circle at least a few inches round.
5. Using one of the hot tools listed, melt the crayon shavings inside the wax paper.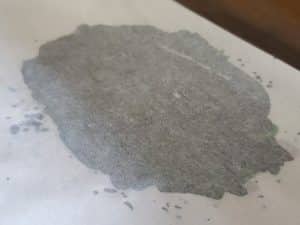 6. Once the wax paper is cooled, punch a hole through the planet.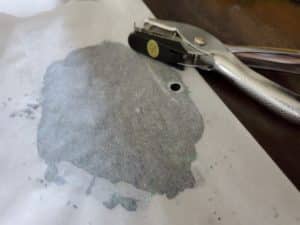 7. Carefully peel back one half of the wax paper, then cut the portion with melted crayon into a circle.
8. Finally, string some yarn through the hole and hang in front of a window.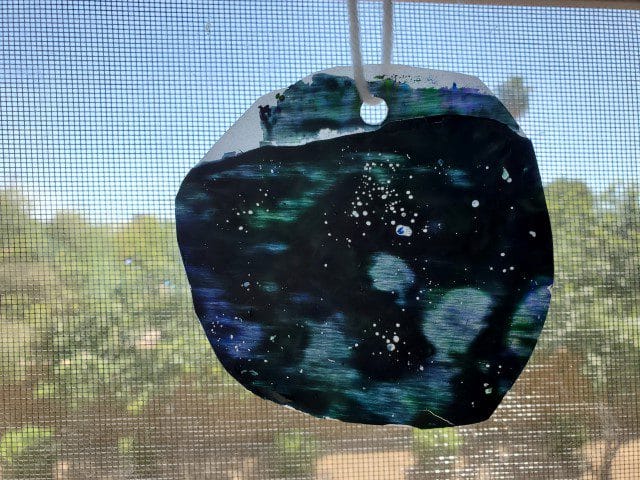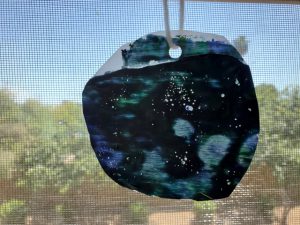 About this activity
This suncatcher activity – complied by Gallery Educator Rebecca Cameron – is one of many that may be offered at an i.d.e.a. Museum Wonder Camp or during a special event, such as Far Out: Our Solar System Family Day.
During musuem camps, gallery educators would tie the art activity to a lesson featuring space exploration and the invention of telescopes and space satellites.
Rebecca is a full-time artist and former teacher; she specializes in galaxy themed artwork. Find her on Instagram, Tik Tok and YouTube as @bexxfineart.