Let's build!
As your child becomes more comfortable with block play, add some challenges with interconnecting blocks.
They'll learn/develop:
Fine motor skills
Following directions
Cause & effect
Elements of design and building

Nurturing your child
Some tips for making the most of your play experience:
Demonstrate how the different pieces connect to each other and discuss the different shapes and colors of the pieces.
Allow your child to build freely.
Ask about their creation.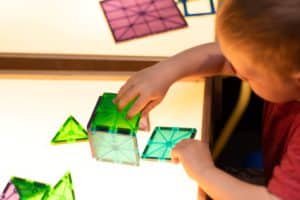 Some questions you might ask:
What piece will be next?
What would happen if …(make a suggestion, such as changing out blocks or going higher)
Is it (the item constructed) used for anything?
Why did they chose to build that object?
What's the story of your building/design?
Additional ideas
Continue the learning by:
Drawing a plan for your own creation.
Building with everyday objects at home.
Using ideas in books to create building challenges.