Today we are highlighting some important school readiness skills through our shape sorting activity. This activity can be done in several different ways with materials easily found at home. Shape sorting is a great way to provide children with exposure to many skills at once. These skills include: shape and color recognition, sorting and classifying by attribute, matching and counting.
This activity combines lessons from two classes we offer, or have offered here at the museum, ArtVille Academy and Skill Builders. It highlights some of the skills we promote through programs and classes offered at the museum designed to target learning for children 5 and under. The goal is to help prepare them for kindergarten by allowing them to practice the skills needed to build a foundation of knowledge that can increase their success in kindergarten and beyond.
Let's get started!
Materials:
White board, or poster board
Shape magnets, blocks, or any other shaped objects available
Dry erase markers or markers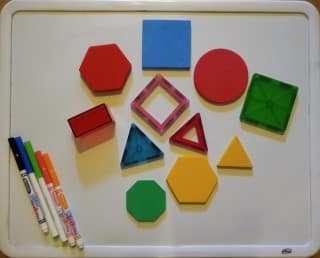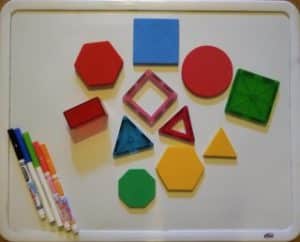 Setting up your board:
1. Use your markers to draw a line through the middle of the board horizontally and one vertically, separating the board into 4 sections.
2. Write the name, and draw a picture of the shape of your choice in each square.
Let's learn!
1. Start by reading each shape to your child and point to the picture on the board.
2. Now encourage your child to start sorting each shape into the area with a similar shape.
3. To promote shape recognition, encourage your child to say the name of each shape as they pick it up to sort it.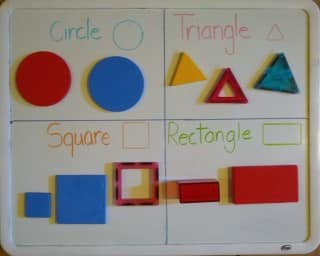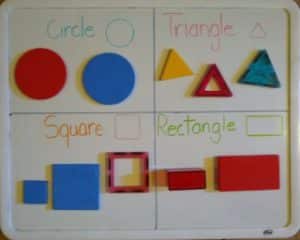 Make your own sorting board!
If you don't have blocks or magnetic shapes readily available, here is another fun way to sort shapes!
Materials:
Painter's tape or masking tape
Construction paper or recycled paper bags/boxes
Floor, table, or backyard surface area
Household items in the form of a shape or that you can make a shape out of such as pipe cleaners, library cards, jar lids or you can use printed shapes made using your computer
Scissors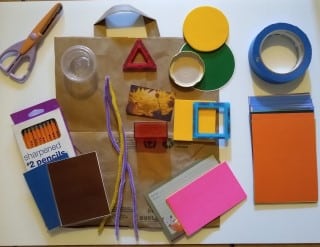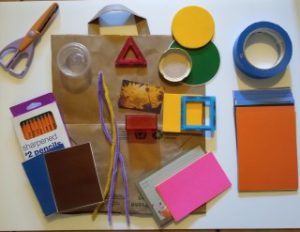 Setting up your board:
1. Use the tape to make shapes on your surface of choice. (Painter's tape is easily removable from most surfaces.)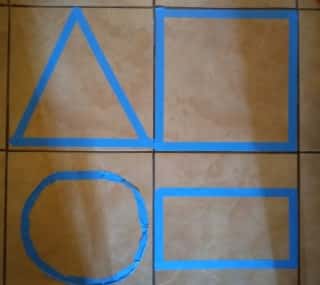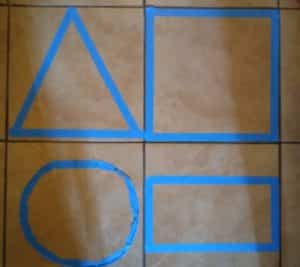 2. Cut shapes out of the paper bag/boxes and construction paper.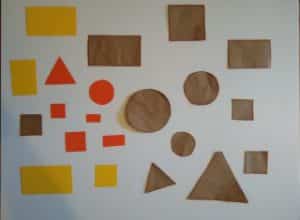 3. Assist your child in sorting items into the matching shape.
4. Add any household items you have.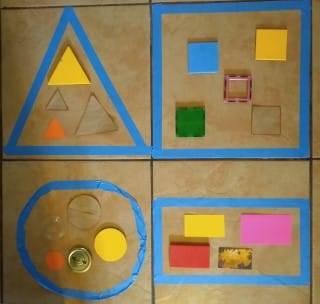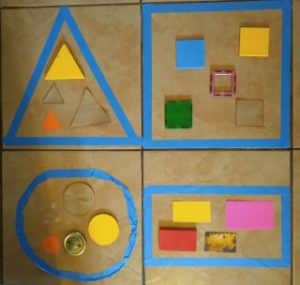 Supporting early learning
Here are some additional prompts to keep your child's brain engaged:
Invite your child to count the shapes in each section.
Ask your child how many shapes of each color they see.
Point to a shape and ask them to name the shape and its color.
Point out how many sides each shape has, if the sides are all the same size, which shapes don't have any sides at all, etc.
Invite your child to remove each shape by asking, "Can you take away a (circle, triangle, square, etc)?" and repeat until all shapes are removed from the board.
To further reinforce recognition, vocabulary and comprehension, model using complete sentences when asking questions. Also, encourage your child to do the same with their answers while naming the shape each time.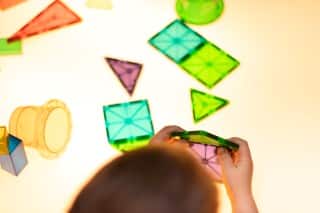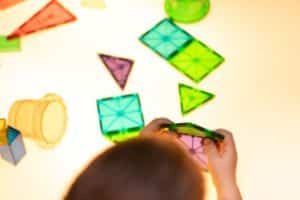 Now that you have created a fun and engaging way to reinforce early math and geometry skills, check out our extension activity for more ideas on how to continue learning at home:
Shape Scavenger Hunt –

coming soon!