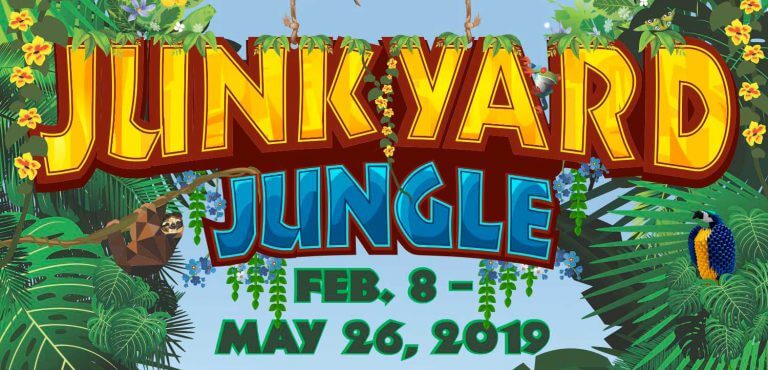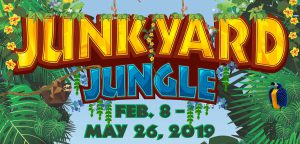 MESA, Ariz. (Jan. 22, 2019) – Escape into your imagination this spring at the i.d.e.a. Museum's Junkyard Jungle exhibition, where discarded materials become treasured artworks that takes you on a journey into Earth's lush rainforests and other wild destinations. The exhibition opens Friday, Feb. 8, and feature artists who work magic transforming recycled items into unique artworks that highlight the beauty of our planet's animal inhabitants.
"Featuring recycled artworks and the activities highlighting the importance of green living are priorities at the museum as evidenced by our Recyclery are of the HUB Gallery with support from Mesa Recycles," said i.d.e.a. Museum Executive Director Sunnee O'Rork. "Best of all, Junkyard Jungle will be a fun way for adults and children to learn more about    our planet's resources, its beautiful creatures and the impact we have on our environment."
The spring exhibition also features art and hands-on interactives that teach about the environment around us, sustainability, best practices in recycling and conservation of natural resources.  Children of all ages will be able to enjoy:
Making collages of wild beasts and butterflies
Imaginary play as biologists, entomologists, zoologists and ecologists
Exploring the black light rainforest
Making videos about recycled artwork
The exhibition – which runs through May 26, 2019 – is sponsored by Mesa Recycles, POGO Pass, the City of Mesa, the i.d.e.a. Museum Board of Directors Inc., and the Arizona Commission on the Arts, which receives support from the state of Arizona and the National Endowment for the Arts. Other financial contributions come from Wells Fargo Foundation and The Steele Foundation.
Wells Fargo Foundation supports the museum's Access for All fund, which helps pay for programs such as school field trips and free days at the museum. The Steele Foundation continues to provide funding for the Artful Tales Experience, an art and literacy program designed for children ages 2 to 5.
The exhibition features 45 artworks by artists from around the United States and United Kingdom. Works include repurposed, discarded materials incorporated into paintings, photographs, sculptures, and collages.
The i.d.e.a. Museum is a part of the City of Mesa and is supported by the i.d.e.a. Museum Board of Directors, Inc. The board is a nonprofit 501(c)3 organization whose mission is to provide sustainable resources to fulfill i.d.e.a. Museum's mission through fundraising, advocacy, and partnerships. Its vision is to create infinite possibilities for i.d.e.a. Museum. 
-30-