Change up your morning routine on April Fools' Day with a little colorful fun.
Note: This is also fun to do around the 4th of July.
This experiment with milk will be a blast for your kids! And they can get a mini science lesson about surface tension and liquids, should you please.
You can do this before they come out for breakfast for some "fooling", but we recommend you definitely repeat this STEAM lesson together to see your child(ren)'s reactions.
This activity shows up occasionally in our school break Wonder Camps or in our Girl Scouts Home Scientist Badge workshop. It's always a fun one!
What you'll need: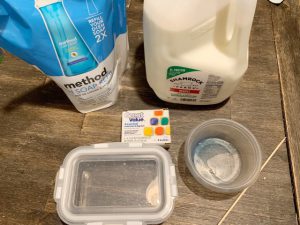 Dish soap
Toothpicks or a pointy object for dipping
Milk
Bowl or other container for the experiment
Your choice of food coloring
Steps:
Pour milk into a bowl – just enough to coat the bottom of the bowl will do.
Pour a bit of dish soap into a small dish.
Squeeze spaced out drops of food coloring onto the milk.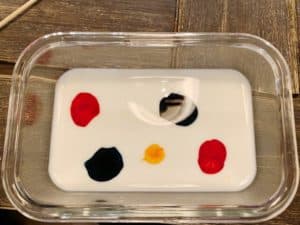 4. Dip your toothpick into dish soap and then tap the food color drops and watch them explode. Watch how the colors mix!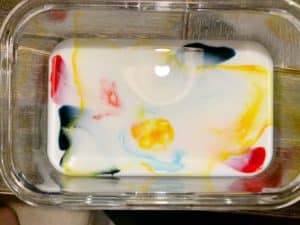 Curious for more?
You can take this experiment up a notch at home and have a mini science lesson. You can mention how liquids have surface tension that vary by the liquid, and how adding dish soap on top of the food color droplets disrupts that tension to create a burst of color. Continue by talking about how soap cleans clothes and dishes.
Learn more about the science together with some research online. We discovered a lesson from Chemical Educational Foundation ideal for grade-school children.
Please note: This is just for fun. Please don't drink this.