Our mission and program goals at the i.d.e.a. Museum revolve around early childhood education.
That's because a wealth of development and growth occurs in children between birth and age 5. This time of life is full of joy, wonder, curiosity and discovery. And it's when children develop emotional, social, cognitive and physical abilities.
And so, we kick off the Week of the Young Child on Saturday, April 10. This is a special time to celebrate early learning and all of the people who support and make efforts in this field.
Typically, our museum would feature special activities at the museum during WOYC. However, this year due to modified business hours, we are only offering in-person activities Thursday through Saturday. On the other days, we will provide engaging activities via social media and our website.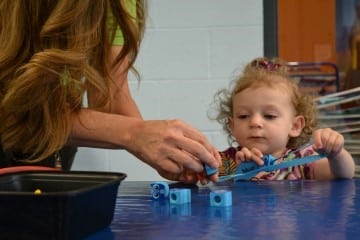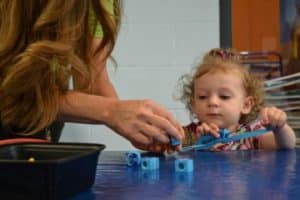 Activities planned
We encourage caregivers to try activities we will be posting April 12-16 at home with their child(ren). Additionally, we will be providing special activities for families at the museum during our 10 a.m. session on Thursday (4/15), Friday (4/16) and Saturday (4/17). Please plan ahead, as spaces fill up quickly for our 10 a.m. session.
Learn about our limited capacity reopening here. Admission is $4.50 per guest ages 1 and older; museum members are free. Please note: Masks are required for guests ages 6 and older and strongly recommended for little ones between ages 2-6.
Themes include:
Music Monday – Follow our social media and check our Experience web page for fun musical activities to do at home.
Tasty Tuesday – We'll have some updated activities on social media and the website.
Work Together Wednesday – Find ideas for your family online and on social media.
Artsy Thursday – Plan ahead to visit the museum at 10 a.m. Thursday, April 15, to enjoy a color blending activity on spring flowers or butterflies. Morning times tend to fill up quickly. Find tickets here. Plus, find additional ideas online and on social media.
Family Friday – Make plans to visit the museum at 10 a.m. Friday, April 16, to create a family photo frame. Reserve your spot early here. Check out more activities online and on social media.
STEAM Saturday – Reserve tickets for the museum's 10 a.m. session Saturday. We'll have a STEAM-tacular story time at 11 a.m. and a take home activity provided by I Can Math. Make reservations here.
The early years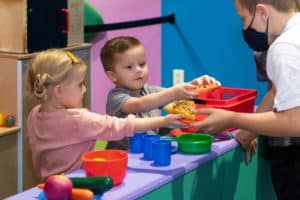 Our museum strives to nurture early learning and support families by offering experiences for children to play, learn, imagine and explore. We've designed ArtVille particularly for the unique requirements of children birth to age 4. This socks-only space focuses on imaginative play, which encourages social-emotional and language development.
Interaction between caregiver and child is key, so we make every effort to provide families with opportunities to support early learning. Caregivers are a child's first teacher and are integral to their learning and development.
We wish your family well, and look forward to seeing you in the museum soon.