We can't believe 4th of July is around the corner. Let's make some colorful fireworks to get into the holiday spirit.
First, let make fireworks with paint and paper tubes. We've shared this activity in past Messy Creations classes, and it's quite fun.
Getting started
Materials:
Paper towel tubes
Paint (try a washable brand, particularly if creating with little ones)
Scissors
Paper plates
Construction paper or other paper
Table cover and apron (to minimize the paint splatter and help you clean up faster)
Watch our video for details:
Create!
Step 1: Gather supplies and place table cover on surface.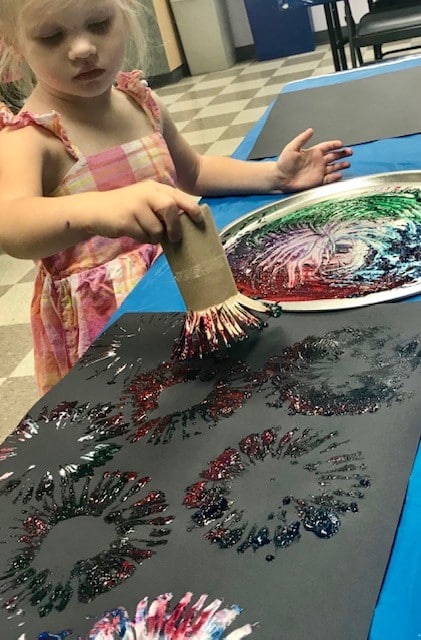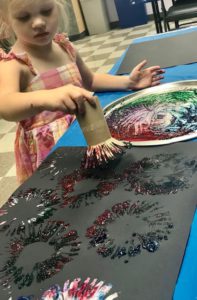 Step 2: Cut one end of your paper towel tube. You'll makes several cuts of various lengths and widths, so each firework will look different.
Tip: Gently pull back strips, so the tubes open up.
Step 3: Pour some paint onto several paper plates. Try red, white and blue for a patriot fireworks display, but all colors will look great.
Tip: Try combining colors!
Step 4:  Dip tubes into the paint, then stamp tubes on your paper to create fireworks.
Step 5: Repeat with several colors on your paper.
Fantastic!
Freestyle fireworks!
Next, try making fireworks with just paint, paper and some cotton swabs.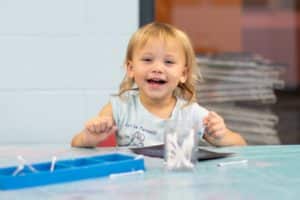 All you need to do is imagine some fireworks and start painting.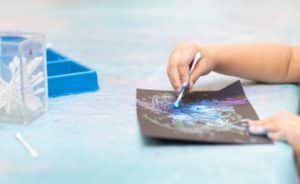 Tip: Look at some pictures of fireworks to help you get started. You can also find templates online, but let your child try without. It may not look perfect, but they will enjoy having creative control.
STEAM: Fireworks in Milk!
Finally, try this science activity. We shared during April Fool's Day. But it's a wonderful STEAM activity for anytime of the year, but particularly around July 4 when everyone loves seeing fireworks.
At the museum…
Visit the i.d.e.a. Museum on July 4th (2021) for a special patriotic craft. We're making windsocks from 12 p.m. to 4 p.m., while craft supplies last. Plus, check out our new exhibition, Robo Art.
More resources
Share some kid-friendly history about the Fourth of July holiday via PBS Kids, Britannica Kids or a source you trust.
Find more craft ideas from a variety of arts and parenting sites such as: Artsy Craftsy Mom, Chicago Parent, and Red Ted Art blog.